PIGMENTATION
Get a free Doctor consultation today !
Pigmentation commonly known as JHAI is a common skin disorder. It causes changes in our skin color resulting in dark spots or patches. causes changes in our skin color resulting in dark spots or patches. We can witness these spots on various sites of our face like near cheekbones, eyebrows, forehead, nose, etc. The scientific term used for pigmentation leading to these dark spots is Hyperpigmentation.
  Hyperpigmentation is a temporary   kind of pigmentation in which one can       witness dark spots followed after any kind Know More
  MELASMA which is a skin disorder, one  suffering from Melasma can witness   dark    brownish discoloured patches on face Know More
  FRECKLES Freckles are small brown patches on the skin. They arise due to   the   overproduction of melanin in our body Know More

Pigmentation Treatment by vedas cure
Vedas cure manufactures the following herbal formulations that help to
treat pigmentation on face. It uses natural herbs to manufacture the
products.
Anti-pigmentation Gel is unique herbal gel that contains organic papaya extract and saffron. This combination helps increase the face complexion and reduces blemishes. Ithydrates the skin and reduces the spots on the face. Papaya is a natural ingredient that helps brighten the skin color and tone.
Kaishor guggulu has natural herbs that help to reduce the body heat. Kaishor guggulu reduces the spots and blemishes on the face.
Aarogyavardhini Vati is an herbal formulation that reduces skin pigmentation and clears the skin marks or spots. The usage of these tablets depends on the severity of the disease. Usage: 1-2 tablets are suggested by the physician in the morning or evening.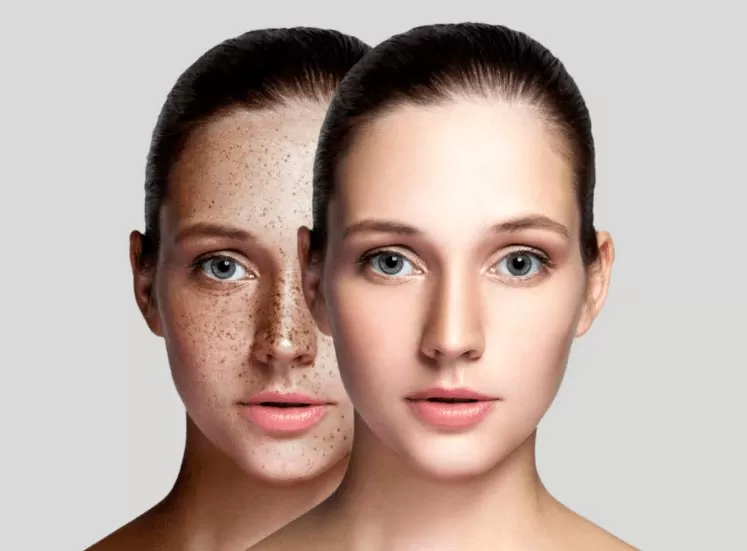 Vedascure is a well-known clinic that has been gaining the trust of their clients for a long time. Now you can also contact them. Yes, 'Free of cost consultation' is provided by Vedascure. You can contact them and get advice from their best specialists and experts.
our pigmentation products